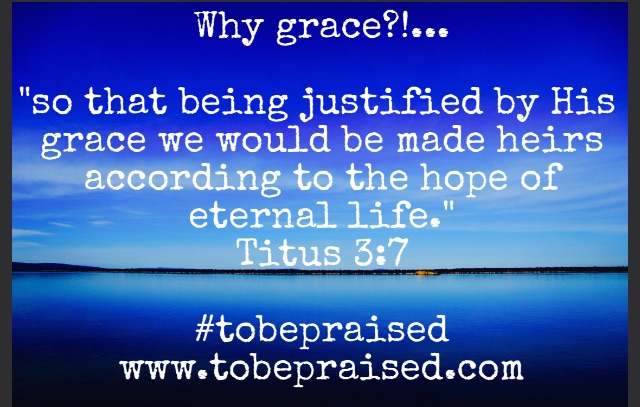 "He saved us, not on the basis of deeds which we have done in righteousness, but according to His mercy, by the washing of regeneration and renewing by the Holy Spirit, whom He poured out upon us richly through Jesus Christ our Savior, so that being justified by His grace we would be made heirs according to the hope of eternal life."
Titus 3:5-7
The summation of the Bible can be captured right here in Titus chapter 3 verses 5 to 7. Jesus SAVED us. All of us. Not some of us. Not the pretty ones. Not the wealthy ones. Not the American ones. Not the good ones. Jesus saved all of us.
Not only did He save us, He did it based on His mercy, not based on any righteous act we have or will or could have done. THAT is the beautiful story the Bible has woven together. The Bible is the evidence of Jesus saving us through mercy and justifying us in the eyesight of God through grace.
Grace (n)
mercy; clemency; pardon
favor shown in granting a delay or temporary immunity.
5 letters. 1 word. 66 books. 1 Bible. 2 Testaments. 1 Savior.
We don't have the human capacity to understand, fully, the lengths God has gone to pardon our sins. We can only see the surface of the deep waters of grace, but those waters reflect the image of Jesus Christ. Without Him, the Son of God, and the outpouring of His blood, nothing in the Bible would make sense.
Every story we've read so far and every story in the Bible points to grace flowing from the throne of heaven into the lives of human beings like you and me.
Do you always feel graceful? Do you always say and do exactly what you should? Can you keep every single commandment? No. That's why none of us are the standard for grace. We are the standard for why grace is necessary; we mess UP. As women, we struggle with measuring up to a standard we think exists. We create perfect images to make us feel like we've arrived safely on Righteous Boulevard.
But we haven't. We can't ever get there without the grace we find in Jesus.
Let's put off perfect! Let's be thankful the image of God came to walk and talk on Earth. He came to show us that He is full of grace and truth. He came to show us that grace will die so you can live. He came to show us that grace will raise up from the snares of death so that you, too, may rise and live basking in grace upon grace.
And the Word became flesh, and dwelt among us, and we saw His glory, glory as of the only begotten from the Father, full of grace and truth.  John testified about Him and cried out, saying, "This was He of whom I said, 'He who comes after me has a higher rank than I, for He existed before me.'"  For of His fullness we have all received, and grace upon grace. For the Law was given through Moses; grace and truth were realized through Jesus Christ. No one has seen God at any time; the only begotten God who is in the bosom of the Father, He has explained Him.
John 1:14-18 (emphasis mine)
#tobepraised