Beloved, let us love one another, for love is from God; and everyone who loves is born of God and knows God. The one who does not love does not know God, for God is love. By this the love of God was manifested in us, that God has sent His only begotten Son into the world so that we might live through Him. In this is love, not that we loved God, but that He loved us and sent His Son to be the propitiation for our sins. Beloved, if God so loved us, we also ought to love one another. No one has seen God at any time; if we love one another, God abides in us, and His love is perfected in us. By this we know that we abide in Him and He in us, because He has given us of His Spirit. We have seen and testify that the Father has sent the Son to be the Savior of the world.

Whoever confesses that Jesus is the Son of God, God abides in him, and he in God. We have come to know and have believed the love which God has for us. God is love, and the one who abides in love abides in God, and God abides in him. By this, love is perfected with us, so that we may have confidence in the day of judgment; because as He is, so also are we in this world. There is no fear in love; but perfect love casts out fear, because fear involves punishment, and the one who fears is not perfected in love. We love, because He first loved us. If someone says, "I love God," and hates his brother, he is a liar; for the one who does not love his brother whom he has seen, cannot love God whom he has not seen. And this commandment we have from Him, that the one who loves God should love his brother also. – 1 John 4:7-10
I wanted us to start this devotional with a lengthy reading. If you have time, please take a moment to go through all of the book of First John. It is not a long book, but it is a text focused on the love of God through Jesus the Christ. I don't want to skim through God's love for us. I struggle with even finding ways to create a synopsis of God's love because it is so massive and overwhelming I drown at the thought of it.
There is NO gift greater than the gift of God's love. If you've known love on this side of life just know it is a mere speck in the wind. It is fleeting. It is tiny. It is flawed. But God's love is an array of colorful hues, it is more impenetrable than the darkness of the galaxy, it shines brighter than the sun. God's love IS everything!
When I set out to identify a few gifts God has given us, I knew love was one of them. It is, after all, the ultimate gift. But I wanted us to journey together in finding God's love in this type of series. Nestled between healing, compassion, friendship, guidance and truth there is love glaring back at us. God's love unfolded gently as the best wrapped present ever given. Through the miracles throngs of followers experienced on the side of a mountain or at a dinner table, through the compassion that lead Jesus to mourn for a shepard-less nation, through friendships bonding Him to mere men, through the guidance He gave Peter on the water, through the truth He told in a society full of lies we see God's love in all things. And, once Love hung on the cross, was buried and rose from the dead there were expressions of God's love in grace which we all have experienced.
so that Christ may dwell in your hearts through faith; and that you, being rooted and grounded in love, may be able to comprehend with all the saints what is the breadth and length and height and depth,and to know the love of Christ which surpasses knowledge, that you may be filled up to all the fullness of God. – Ephesians 3:17-19

I pray today, you sit for awhile to think deeply about how much God loves you. He sent His Son to this earth to DIE for you. He gives you grace when you make mistakes. He sends angels to tend to you when you're feeling weary. Everything, everything, EVERYTHING that God does is for YOU and for ME. If you're feeling a lack of love today,remember it's not that we loved God, but that God loved US.
You, my friend, are loved.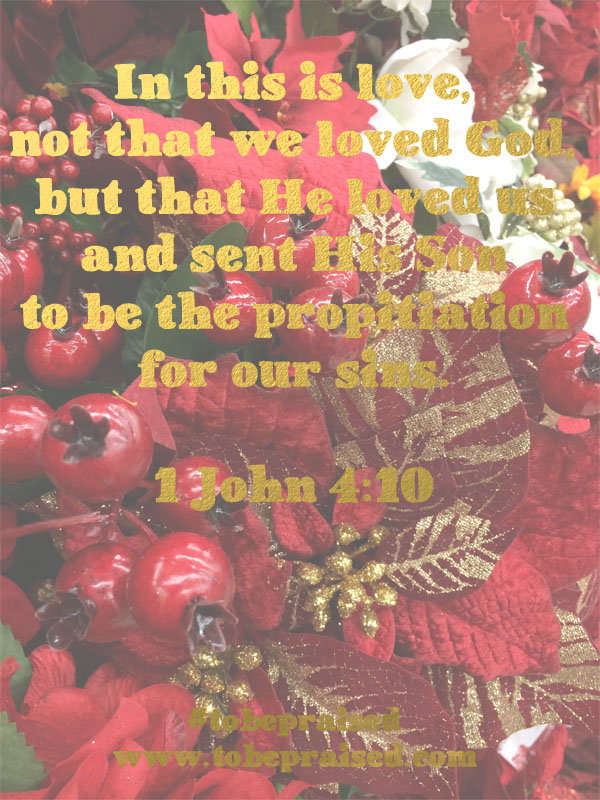 #tobepraised