"Deeply hurt, Hannah prayed to the Lord and wept with many tears."
[1 Samuel 1:10]
I started practicing praying on my knees by accident. I was so struck with grief, I couldn't do much, but sit and pray which always turned into slumping down on the floor and praying while weeping. After some time, I got kind of comfortable praying on my knees. The space in my room between my bed and my desk turned into a sacred ground, a sanctuary of sorts. Many tears have been shed there and many moments were spent mouthing "thank you Jesus", too.
I don't know what your prayer room looks like. I don't know if you have a special place. It could be your car, your closet, your shower, your bathroom, your kitchen. Wherever it is, God meets you there and it's such a beautiful thing to transform spaces of this broken and flawed world into a spiritual habitation.
Hannah, whose name means grace, is a perfect example of what it means to see God's work displayed through anguish. Through weeping, Hannah petitioned a prayer to the Lord that changed her life and history. In her anguish, she prayed and in her anguish God displayed a mighty work.
In 1 Samuel chapter 1 we learn Hannah is without child. In verse 6 the Bible says, …"the Lord had kept Hannah from conceiving" (HCSB). Other translations say "the Lord had closed Hannah's womb" (NIV). In any translation it is evident, the reason behind Hannah's childlessness is God. This strikes me as important and I hope you take special note of it as well. Often, what is behind our lack is God. This is why some women blame God for their circumstances and this is also why some women draw closer to Him to understand why whatever it is, is what it is.
I don't believe we weep in anguish from situations we can remedy ourselves. I believe, the core of deep rooted anguish and hurt, is a situation that seems nonmovable or fixed. Has a situation you've faced seemed so large and daunting you weren't sure how to move around it? Maybe it was a parent you lost that you couldn't seem to get over, or a friend. Maybe it was a fear you couldn't quite overcome. Maybe it was…you, your own self and personality getting in the way of your future.
I believe every woman faces a moment of anguish in her life; some women face more than one moment. These are the times, I hope you are the type of woman who draws into the presence of God to pray. Ephesians 3:20 is one of my all time favorite verses, it reads "Now to Him who is able to do far more abundantly beyond all that we ask or think, according to the power that works within us, to Him be the glory in the church and in Christ Jesus to all generations forever and ever. Amen" (NASB)
Hannah knew God was able so she prayed. Verses 19 and 20 say, "The next morning Elkanah and Hannah got up early to bow in worship before the Lord. Afterward, they returned home to Ramah. Then Elkanah was intimate with his wife Hannah, and the Lord remembered her. After some time, Hannah conceived and gave birth to a son. She named him Samuel, because she said, "I requested him from the Lord.""
God will create a lack in your life, a hole so large everyone will notice it. A hole that will haunt you, scare you and make you wince in anguish. I've learned and am still learning that these holes are not placed in our lives to humiliate us, they are placed there by God to display His work, His glory. Imagine if Hannah never knew what it was like to be childless, would she have been drawn to the temple to pray earnestly and fervently? Would she have wept before the Lord who anticipat the moment of blessing her in life?
If you are experiencing anguish today, remember that God is able. In our pain we often see the glorious work of our Lord. Let us always remember God who fills our holes with glory, purpose and healing.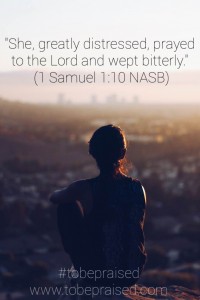 God bless you.
#tobepraised