Pardon the delay of this devotional…life happened. It's fitting that we discuss grace today. I hope you extend some to me since I'm a day late.
---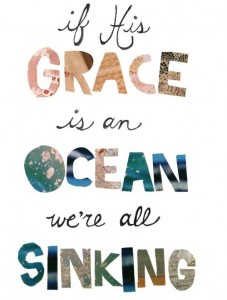 We are drowning, every day, in the ocean of God's grace. Mercy and clemency for sins we commit time and time again is God's gift to us. We receive grace when we deserve death. We receive life when we deserve death. We receive love even though we behave as enemies.
Grace: a manifestation of favor.
As this year folds into the next, we find ourselves in so many different situations. When I think of grace I always remember Paul, a man well known for murdering those who believed in Jesus. After he encountered the living Savior on the road to Damascus, after he was baptized, Paul was given grace upon grace by God Almighty. Paul wasn't cast aside because of his sinful past, God used his past to help others have a future. That's what grace does, it overcompensates for us when and where we cannot.
I pray, during this holiday season, that you feel the power in God's grace. I pray you extend grace and mercy to others because Jesus said, "Be merciful, just as your Father is merciful."
Grace be with you all. – Hebrews 13:25